Judy Weyand, MA, LMFT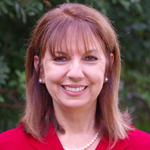 Judy has been working with children and families over the past 23 years as a school counselor, workshop leader promoting personal growth, facilitator for grieving families, and radio host for a weekly Christian radio program, "Child of Mine".
At Life Connections Judy works with individuals, children, couples, and families who have a desire for personal growth leading to more satisfying relationships. As a professional certified coach, she helps individuals develop strategies for implementing personal changes that lead to positive results. With children, couples, and families she helps develop healthier and happier familial relationships, which often leads to more satisfying relationships outside of the home.
As an Emotional/Social Competency Inventory accredited professional with the Hay Group (developed from Daniel Goleman's research on Emotional Intelligence), she helps individuals discover personal strengths and weaknesses while enhancing personal satisfaction in relationships both in and out of the workplace.
Judy earned a Master Degree in counseling in 1989 with further studies in the areas of Choice Theory/Reality Therapy and Rational Emotive Therapy. Judy's passion for families has led her to complete a certificate program in Marriage and Family Therapy at the University of South Florida in 2013. Judy is a Licensed Marriage and Family Therapist.
Licensed Marriage and Family Therapist, LMFT License #MT3242