Events
Aug. 2017
St. Vincent graduate students from MINTS university visit for a practicum learning experience for 12 days from our staff. Jim is in charge of that training. We do it every 2 years. Learn more at www.mints.ed​u
Sept. 2017
LCCC is honored to be part of the national conference, The Experience Conference for worship leaders going through stressful life events and other human problems. We will provide free individual counseling to those interested by signing up. We will serve Wed. 9/6 and Thurs. 9/7.
LCCC has been invited to be part of the Church and Disability Conference, serving as the mental health panel as a complete team. It will be at Idlewild Baptist Church Sat. 9/30 all day. We are honored to help share mental health information to participants and church staff.
October 2017
Congratulations, St. Vincent Graduates!!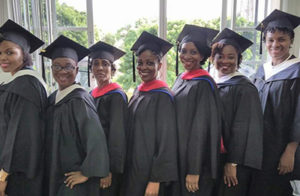 Nov 2017
Nov. 13, 2017: We are honored to serve at the Florida Baptist Pastors' Conference in Brandon, FL by providing confidential, complimentary counseling and support for these amazing church leaders! "As iron sharpens iron, so one person sharpens another." Proverbs 27:17 (NIV)
5th ANNUAL BARNABAS BANQUET- October 14, 2017
Join us for our 5th Annual Barnabas Banquet. The event will include, Mrs. Ruth Ward sharing helpful principles for emotional and relational health learned over 40 years of counseling. Enjoy music by guitarist, David Alandete. Complimentary Italian dinner and Silent Auction.
Ruth Ward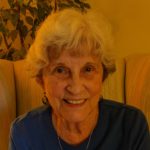 Ruth Ward is a pastor's wife, was a substitute teacher, and then a marriage and family counselor in Pennsylvania. She had led seminars on the Myers Briggs Temperament Indicator (MBTI); self-esteem; marriage enrichment; parenting; life-style evangelism; and creative praying. She is the author of 8 books, on the MBTI, self-esteem, relationships, devotions, worship for kids, and parenting. In her spare time she likes walking, reading, cooking, gardening and sharing her faith.
All proceeds benefit our Barnabas program.
Saturday, October 14th
7:00pm-9:00pm
Oakwood Community Church 11209 Casey Road Tampa, FL 33618
RSVP: RSVP to Nonia Deaton by October 11, 2017 ndeaton@lc-online.org or 813-265-3859 X227.
100% of proceeds will go to Life Connections' Barnabas Program, a unique, reduced fee program for people who otherwise could not afford high-quality Christian counseling.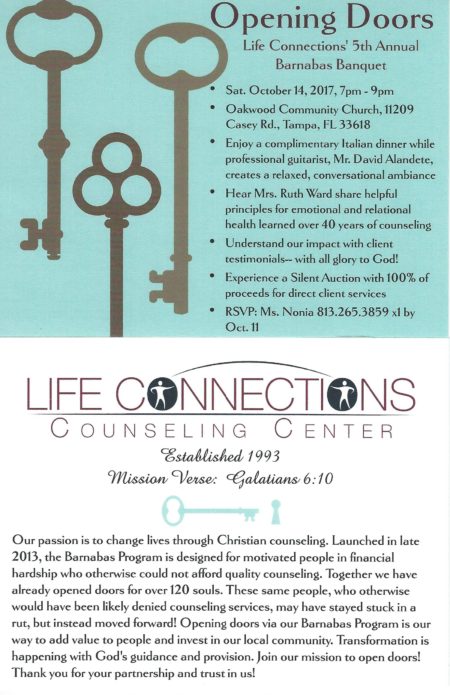 PRAYER & CARE – Sept. 21, 2017
Join us for Free Community Event on "Internet Safety & Cyber-Bullying".
Presenter: Kameron Chao.
Audience: Adults who have children and/or work with children. Please Note: Due to the presentation's content, this event is intended for adults and older children (middle school age (age 11) & older). Thank you for your understanding.
Bay Hope Church in Partnership with Life Connections
Bay Hope Church in Partnership with Life Connections

LUNCH & LEARN: "Emotional Experiences of Children with ADHD"
Presented by Ashley Schmid, PsyD, Licensed Psychologist at Life Connections. FREE
Thursday, Feb. 23, 2017
11:45am-1:00pm
Bay Hope Church (formerly Van Dyke Church)
Portable E, Van Dyke Church (Across from Church Office). 17030 Lakeshore Road, Lutz, FL 33558.
Cost: Free Deli-style lunch (no CEUs for this event)
Please RSVP: To Nonia Deaton by Nov. 8, 2016 via ndeaton@lc-online.org -or- 813.265.3859 x227.
Sponsored by LCCC.
Prayer & Care Ministries, Bay Hope Church
Free Educational Event & Workshop: Designed for Parents, teachers, church staff, counselors. Continued Education unit is not available.